The objective of the Crow Creak Retention Basin project is to design water storage structure to collect the surface runoff in order to control the flooding condition at Fort Thomson, South Dakota. The project also involve the construction of a net work of drainage channels to release the storm water in the basin back to an appropriate outlet at a control rate. The basin will also serve as habitat for fishes and wildlife in the area so that the local community can also use the structure for recreational purposes.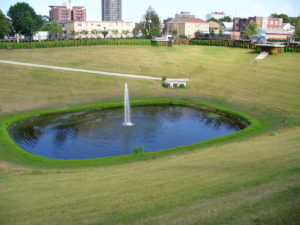 The project consists of five stages:
Site Visit
Geotechnical Analysis
Hydrological Analysis
Design
Construction
The project designer also collaborates with the Dakotah Tipis Habitat for Humanity and TCNJ Humanitarian Engineer in the development and construction of the project.